PENNSY
LVANIA
!
I love Pennsylvania! If you are in your car or walking you can smell chocolate by the town of  Hershey. It smells so good there you feel like you never want to leave. It is located in America's North East with famous cities like Harrisburg, Scranton and Gettysburg, where President Lincoln gave his historic speech to end the war. On a road trip you can pass fields with soybeans and lightning bugs that will shimmer.
A Natural Wonder
r in Pennsylvania is the Losh Run Box Huckleberry. It grows to  one foot off the ground and you can find a lot of these at route 322 Perry County in Pennsylvania. The plant species is 13,000 years old, it is one of the oldest living organisms in the world.
One of the man made wonders is Hershey Park! Hershey park has 70 rides you can go on and each one is so much fun! You can find Hershey park 15 miles east towards Harrisburg then 95 miles west of Philadelphia. 
The park was opened in 1906 by Milton Hersey to give the workers in the town of Hershey something fun to do. 
They opened their first roller coaster in 1923 and now have 11 you can ride and scream on!  The water park is HUGE and the Lazy River goes really lazy-slow, which is good to rest your belly from all the chocolate desserts!
"Proclaim LIBERTY Throughout all the Land unto all the Inhabitants Thereof"
A historic site in Pennsylvania is the Liberty Bell, also called the State House Bell or the Old State House Bell. Today you can visit it in Philadelphia Pennsylvania, and take a tour to learn all about it. The bell was made in 1752 by John Pass and John Stow, and they delivered it to be hung in the Pennsylvania State House. In 1776 they could not ring it on July 4th, because of a big crack. Cast on the bell is a quote from the Bible, "Proclaim LIBERTY Throughout all the Land unto all the Inhabitants Thereof", and it is still a symbol of our freedom today!
A State hero in Pennsylvania is Rachel Carson. She was born on May 27 1904 in Spring Dale Pennsylvania. In the 1950 her attention went to DDT. The book Silent Spring was published in 1962 it eventually made a reversal in national pesticide policy and a ban of DDT because she founded out it was killing animals.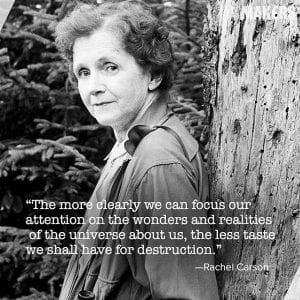 The state nickname of Pennsylvania is the Keystone State, the reason it is named The Keystone State is because it was the middle colony of the original 13, and really important when the first 13 colonies were building the country.  The Constitution and the Declaration of Independence were signed in Pennsylvania.